Do you need stumps to disappear at your Anacortes home?  Jay's Stump Grinding is experienced, efficient and reasonably priced.
Jay's Stump Grinding Service knows all the details to be handled such as how your landscape can benefit from the attractive wood shavings which are the result of the grinding process. Your neighbors in Anacortes might be jealous!  We can often arrive to remove your unwanted and ugly stumps in Anacortes within a few days of contacting Jay's Stump Grinding. Over the phone, we provide stump removal quotes and estimates if you have measured the diameter of the tree stump(s) to be removed. Lately, many of our clients also find it useful to use their smart phones to take pictures of the tree stump(s) that we will be grinding and then text them to us. For purposes of scale, we suggest placing a food can or coffee cup on the cut tree stump before you take your picture. This allows us to be fully prepared for the job when we arrive in your neighborhood in Anacortes .
Are there permits for Stump Grinding In Anacortes?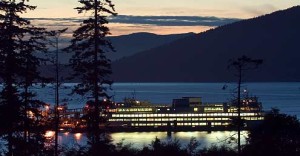 We are not aware of any permits needed for the removal of tree stumps on your property in Anacortes. However, depending on your location, there may be required permits for complete tree removal. Please connect with Skagit County and The City of Anacortes for more facts. It may also be wise to consider underground utilities near the stumps to be removed. Please check with  "Call Before You Dig" for more information.
Quality Service From Jay's Stump Grinding

Jay's Stump Grinding Service  takes pride in quality work and a superior clean-up job. We operate with careful regard to ensure there will be no damage to your house and property. We are fully licensed and insured for all levels of work.

Anacortes Neighborhoods:
Anacortes
Cap Sante
Decatur Island
Guemes Island
J Avenue Cottages
La Conner
Old Town
Rock Ridge
Skyline
Sunset Cove
The Woods At Sunset Cove
Trivia:
What was anacortes first known as?
Answer: Ship Harbor